Ecological Art - The New Age's Aesthetics
Artist and designer Marianna Sisson offers a selection of boutique pieces of Ecological Art. "I get my inspiration from exotic cultures, and nature on all its layers, from the world of abstract art, from Kintsugi which is a traditional Japanese art, it even comes from children's fairy tales and from many more" says Sisson.
The element that distinguishes and unites her art, is Sisson's deep affinity for ecological art. This is reflected in her work as an artist, in her thriving work as an Interior Designer and as an expert in real estate branding for businesses, companies and housing complexes.
Photo From: "The Most Beautiful Houses in Israel by the Architect Mickey Treves". Sisson's piece is made from palm leaves which is 77% recycled (Photo: Lior Titler)
What is Ecological Art?
Each type of art expresses the artist's worldview, which is related to the artist's way of life and the global changes that surround. Ecological art is not different in this aspect. It is a natural continuation of the trend that has been taking place all over the world in the last century, that has intensified even more in the recent years.
Ecological art is based on a combination of innovative thinking and reuse of materials. Ecological art is a contemporary issue, developed in response to the ecological crises experienced by nature and humanity. Artists in this genre use it to convey "green" messages based on the desire to create an ecological balance.
Sisson's works embody groundbreaking creativity in them, aiming to raise awareness and proving it can and should be based on the reuse of diverse, available materials (including renewing waste and scrap) and informed use of available natural resources.
Moreover, Sisson attempts to conserve energy, strengthening a lasting relationship between people and their surroundings, reducing waste production and more.
At the same time, Sisson proves that high quality luxury ecological art can be as prestigious and spectacular as any other type of art, and therefore, the Eco Art has earned its name among art lovers, designers, architects and professionals, who recognize the importance of the deep message inherent in the works, alongside their high aesthetic value.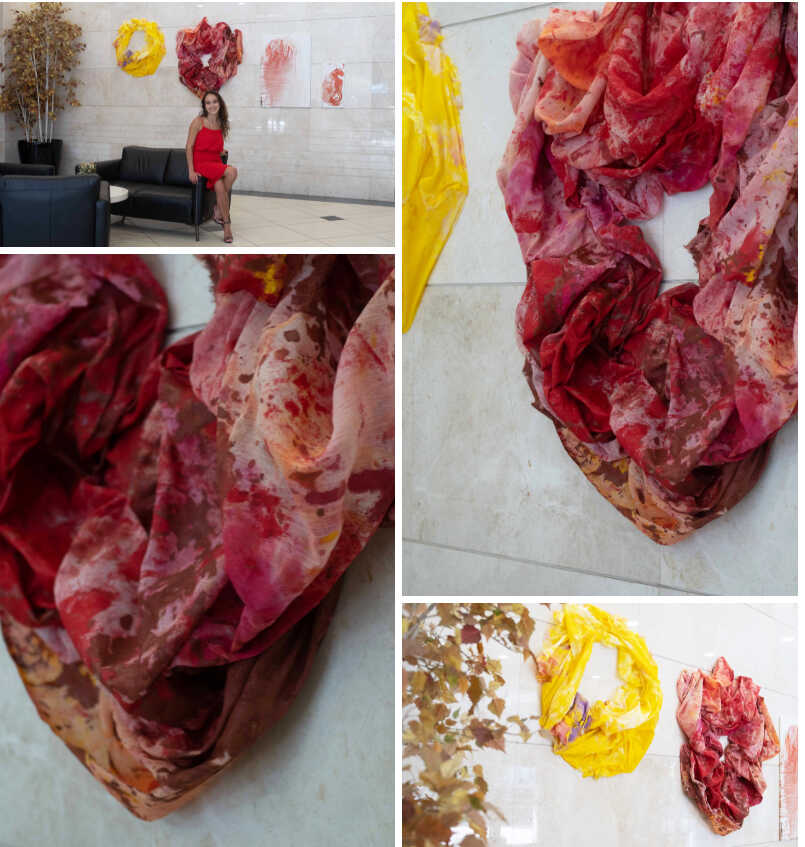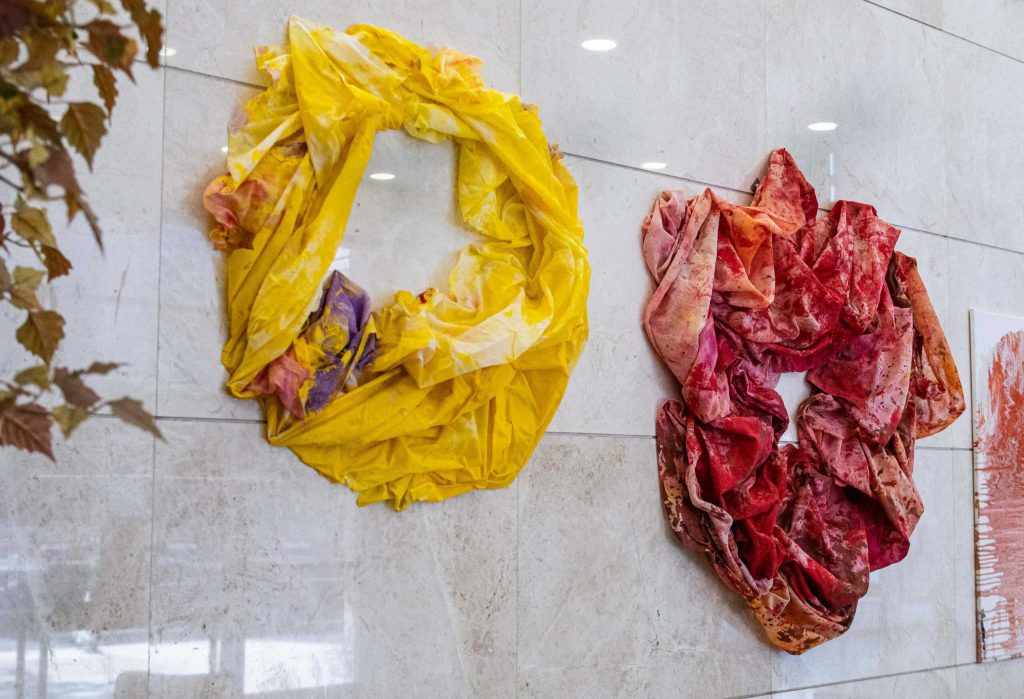 Photos taken at BSR Tower of fabrics sculpting inspired by pomegranate tree flowers. Made of 78% recycled materials (Photo: Gilad Radat)
METAL FANTASY – 90% Recycled (Photos: Yossi Vaknin)
Where can we experience ecological art?
Visual ecological art can often be found in a variety of luxurious galleries throughout Israel and around the world. Exhibitions also display impressive visual artworks, which manage to combine between the important message and the artist's contemporary work, whose ecological vision leading the path.
Lately, a new genre has emerged, combining the magic of ecological art, the luxurious lifestyle. Luxury living's owners have discovered the exclusive and unique atmosphere that this art brings up, and regularly open their houses for display by well- known and new young artists.
Owners of private houses, villas, cottages, and wide-open garden houses, serve as permanent or temporary homes for ecological art exhibits, allowing them to achieve several goals at the same time: to meet those whose worldview corresponds to the deep message of the ecological art and to pass on and raise awareness. This is done while holding an intimate or multi-participant event, which allows social and business networking and display of the property.
The role of ecological art in modern architecture
The contemporary architecture is also closely being related to "green" concept. Energy savings, the use of natural sources, using ecological materials for building and preliminary planning which takes in consideration the ecological balance in the property's environment, are only some of the processes that guide architects in the current era. This is done with the aim of sustaining the modern way of life here and now, but with a future lookout that consider the earth and the future generations' quality of life. Ecological art integrates with ecological architecture and well complements the aesthetic aspect of this art. Therefore, more and more architects are associated with this genre in aim of maximizing the ecological impact, inside and outside the house.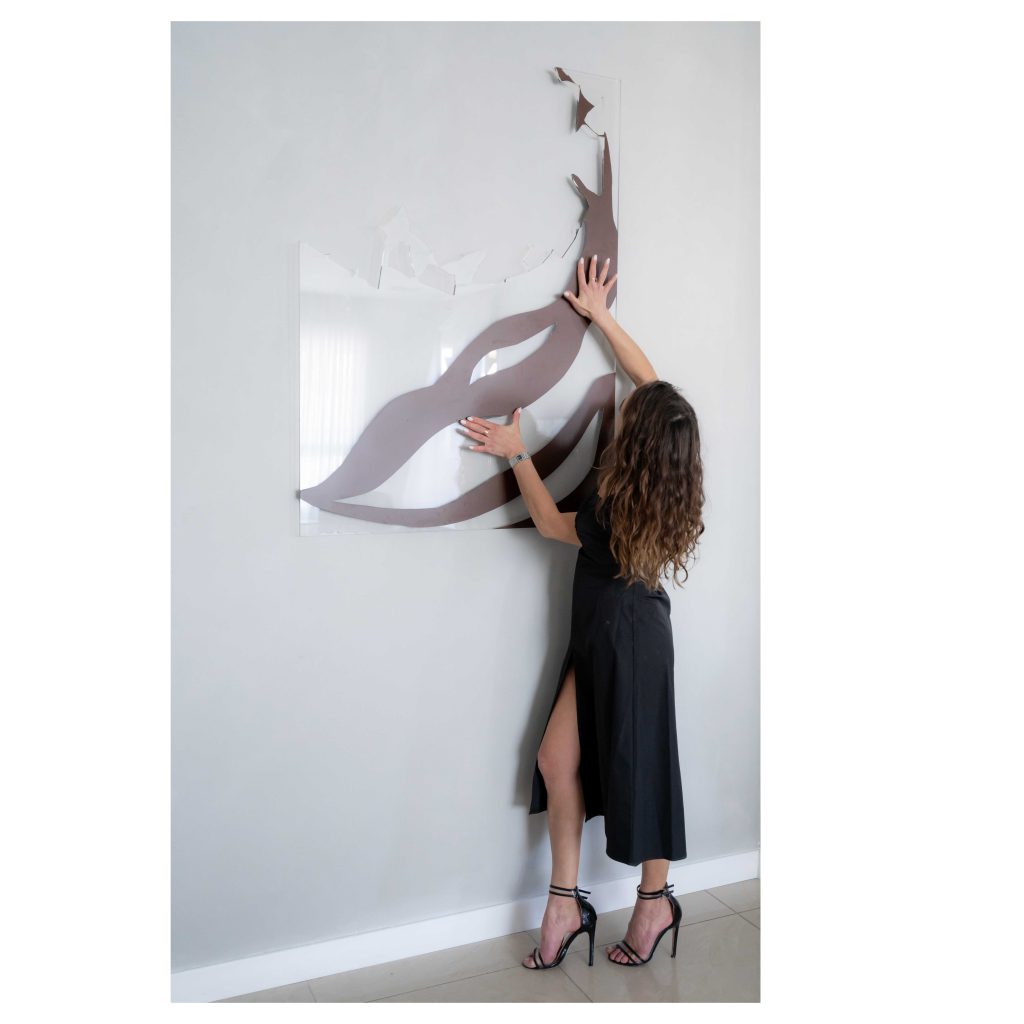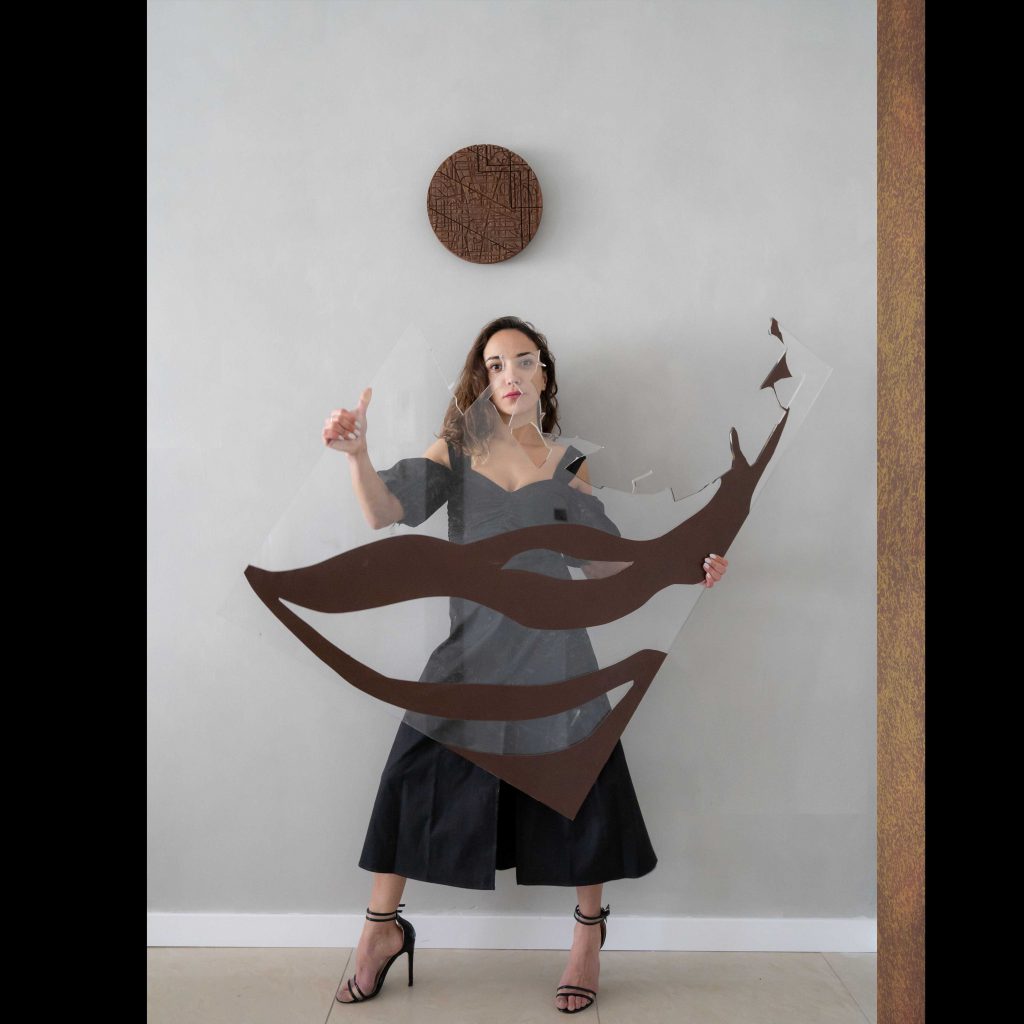 SNOW WHITE- Recycled 93%(Photo by Or Moyal)

Art is made of skins which the artist stretched and painted on
Artwork from leather and upholstery fabrics – Recycled 90% (Photo by Gilad Redt)
Stretched skins – 90% recycled (photo by Gilad Redt)
In conclusion, there must be a spot in your house for beautiful ecological art – the sooner the better. Whether you're planning an open house, luxury accommodation, or present a selection of unique ecological art pieces at home, you're designing a house or being at architectural planning stage, this is your chance to join the diverse and immersive possibilities this art brings up.
In an age when it's important to always looking forward when it comes to current trends, Mariana Sisson's ecological art brings an added value to every place the artworks are displayed, and function as an integral part of one's life.  They send healthy and positive message, while creating an irreplaceable artistic space.
        Marianna Sisson- user experience in space  
 Tailor made luxury interior  design
 Branded Residence
 Ecological art
innovative ecological art
Leave details and I will get back to you soon